Regarding PCB Layout: Design Norm of PCB Layout Process of PCB Layout Documents to Download
Since the development of DEA implements, that progresses day by day, Designing a PCB is no longer difficult. The integration of mechanical and electrical products and passing EMI certifications would be the key point in determining whether the merchandise is successful or not. Posing a feasible bridge between R&D and manufacturing is apparently a significant role that a PCB Layout Engineer must participate.
Being a PCB Layout design company, according to the international standard, we particularly follow a custom-made Guide Lines aimed at different clients with respectively distinct demands and products; meanwhile accomplishing the idea of quality is something made up by design through a precise management/supervision procedure.
1. Design Norm of PCB Layout (IPC-782. IPC-D322….)
2. Design Regulation Check of Circuit Diagram DRC
3. EMI / EMC Design Norm of Electromagnetic Wave-Resistance.
4. ICT Design Norm of Circuit Plate Test
5. FPC Layout and Design Norm of Pliable Printed Circuit Plate (Pliable Plate)
6. Hi-Speed Circuit Design Rule (Time Delay Control, Impedance Match)
7. Design Norm of All Kinds of Products ( PCI 2.2 ,USB2.0, IEEE 802.1X,1394…)
8. Custom-Made to Fit Client's Product Character and Dedicated Surface.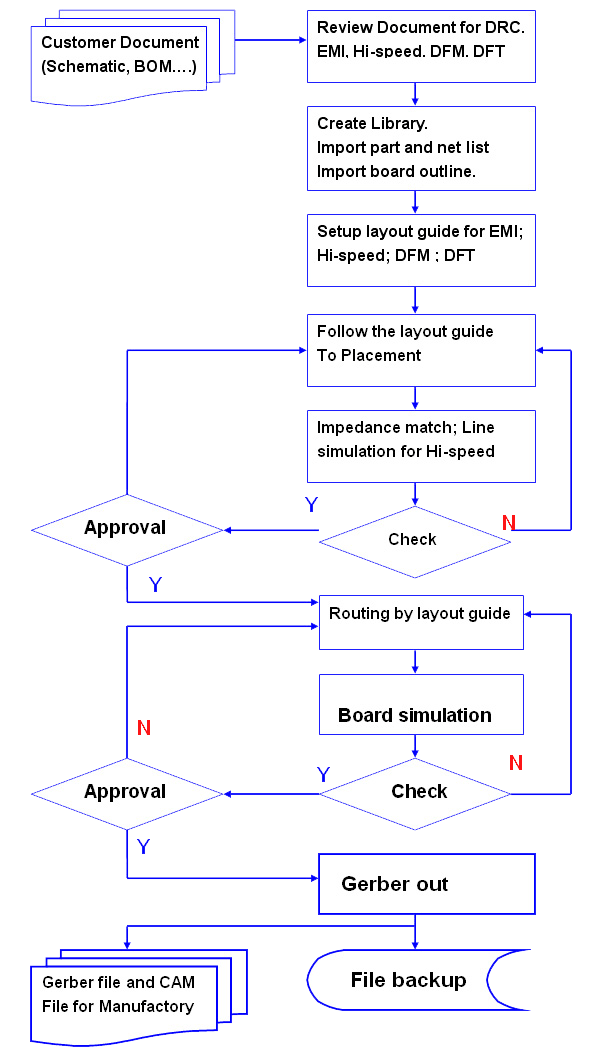 Documents needed for PCB Design : **for the .zip password, contact us, Extension 200**